Why You Should Not Knit for Anyone Else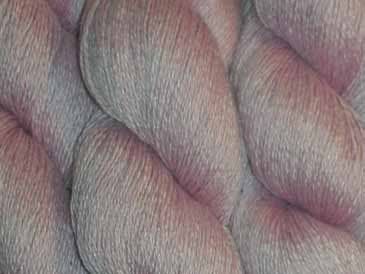 School Products, cashemere/silk, 400 yds/50 gm

Long ago I had my own knit design business and studio. I produced knitwear for wholesale and for custom order clientele. Patience and tolerence were virtues that I had to practice regularily. Now I have moved on to another career path and have left that all behind. I thought. While cruising yarn stores in NYC last summer I came across a beauutiful cashmere silk. As a well trained shopper I realized that this unnamed shade of pink/lavender (no not mauve) was not my colour. But it was perfect for my daughter (henceforth called The Diva). It was also not a weight that I ever knit. The retailer told me that it was perfect for shawls. I love shawls but I have yet to knit one. The weight of this yarn was less than fingering weight...less than lace weight. We could either call this cobweb or thread. OK I could knit with multiple ends. I walked around the shop for almost an hour squeezing a skein of this soft yarn in my hand. Naturally I was seduced and left with 6 skeins of yummy yarn in a colour I would never wear in a weight that I had never knit.

Back home in Toronto I showed the yummy yarn to The Diva. She agreed that it was the perfect colour for her. The thought of a hand knit item being left behind in some club, taxi or cafe was not appealing to either of us so we settled on the idea of knitting a cardigan, which when not hanging on to her arms would hopefully be tied securely around her waist. The Diva showed me her favourite cardigans: all very thin and plain. Well this one was definitely going to be thin, but how about lace for a change? The Diva arched an eyebrow and looked at me suspiciously. Not a frumpy sweater? I showed her a lace sweater that looked to me very young and fresh here. She vehemently declared: "They look like worms!!" What to me was a classic Barbara Walker lace pattern put to use in a modern sweater was to her worms on a sweater. I sighed and then showed her this. We agreed that it was cute. I stared swatching using two ends on 2 mm needles. The rib was fine. I started the lace. I fell asleep on the bus. The next time I picked it up I put it aside for a sock. I tried again. My knitter's heart went cold. I didn't want to knit this pattern. What to do? I told The Diva that I couldn't knit it. I would make her something else with some other yarn. The Diva said OK how about a red hat. Great i thought I have two shades of red wool in my stash. No she said to both and then showed me her red sweater: a deep wine burgundy sweater. Sorry I said I can't knit outside of the stash right now.

While cruising through Ravelry I spotted Lily Chin's reversible cable shawl. I wanted one. Maybe I could wear pink/lavender. I started another swatch. I had been warned that this could be a long and boring knit. Well it is also frustrating when knitting two ends with unfriendly needles. My knitters heart failed again. I revived it with two different sock patterns on Magic Loop. There is something about Magic Loop that just makes me feel good. It gives me a sense of spatial competency, especially when I am feeling incompetent with anything else that I am doing (which is much too often). Again while cruising through Ravelry I spotted a desireable pattern. This happens so often on Ravelry that it is a wonder that I even remember what has been saved in my knitting queue ...that is why the clever people at Ravelry have created it as a visual part of member notebooks. Anyway this pattern was knit top down --one of my favourite methods because it is great for "fitting while knitting". The required yarn was very thin and knit on large needles. But the yarn was mohair. Itchy but the hair fills in the spaces left by a loos gauge. What would cashmere do? Other Ravelers swore that the sweater knit up quickly. Could this be the one? I showed the airy wrap to The Diva. She nodded enthusiastically. I immediately started swatching on 4 mm Addi Turbos. A lovely swatch but not airy enough. I swatched on 7 mm Addi Turbos. Love it!! I have now cast on. Yeah!!
Labels: KNITTING