Starting Is More Enticing Than Finishing
February is over and my mittens are not finished. I till have one thumb and the blocking left to do. hopefully I can finish before next February. They would be excellent mittens to wear now in the late winter and in the early spring. The green and purple and black remind me of Blue Heron Tulips in my Spring garden.





I may not have finished in February but I did start projects. Starting is so much more enticing than finishing. My Habu lunch bag kit arrived in the mail. The yarn is multiple strands of coloured silk bound together with black silk. It creates a beautiful tapestry like effect. Blue and green roving is also in the kit, to make a felted handle. The instructions are a hoot. Very brief. You have to be an experienced crocheter to make sense of it, but the diagram is excellent.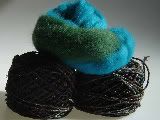 Lunch Bag Kit

I also started the Anastasia socks, in red cotton/lycra Fixation. They are to be my March break travel project. I don't have wooden needles so I hope I don't have trouble taking them on the plane.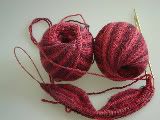 Anastasia

I finally photographed Curly Locks, the Fleece Artist mohair, and Flaxen, the Handmaiden silk/linen that I received before Christmas. Both of them are intended for Shirley Paden patterns. I have started swatching Curly Locks for a cardigan, but I probably won't knit that until next fall.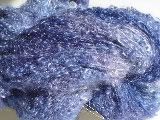 Curly Locks

The colour and feel were just so tempting that I couldn't resist swatching. How can yarn be so beautiful that I am happy to knit nothing but a swatch with it. The Flaxen is for the Ooh La La Lace dress and shawl, from Lace Style. I should start that some time in spring. But when will I finish?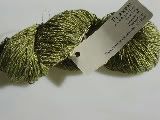 Flaxen
Labels: crochet, Habu yarn, KNITTING, knitting Paden